Religious Education
RE gives us the opportunity to celebrate our differences and really show our appreciation of everyone's beliefs and views. Tolerance and respect are key life skills, which are embedded throughout the children's RE learning. We are very lucky at Southfield Park to be able to partake in a variety of workshops, go on trips to religious places and have insightful talks from parents, relatives and other visitors about their different religions. Some of the children even regularly bring in religious artefacts from home to share with their classmates. It is important for the children to see that even within our own school community a range of different religions thrive and that we should be respectful of other people's beliefs.
Throughout the RE curriculum at Southfield Park, the children learn about a wide variety of world religions and alternative beliefs, including Hinduism, Islam, Judaism, Sikhism, Christianity and Buddhism, and in accordance with The Agreed Surrey RE syllabus (2017-2022) they have a number of opportunities to make comparisons between different religions and theories. A range of comparative units, for example 'How the World Began', allow us to focus on a particular topic from the perspective of different religions and to compare these with scientific views e.g. Darwin's theory of evolution.
The RE curriculum we follow at Southfield Park is based on The Agreed Surrey Syllabus For Religious Education in Surrey Schools (2017-2022). Please see the links below to access a copy of the Syllabus and also the Southfield Park RE learning document for more information. If you have any additional questions please feel free to contact Miss Savill (RE subject Leader) to discuss these further.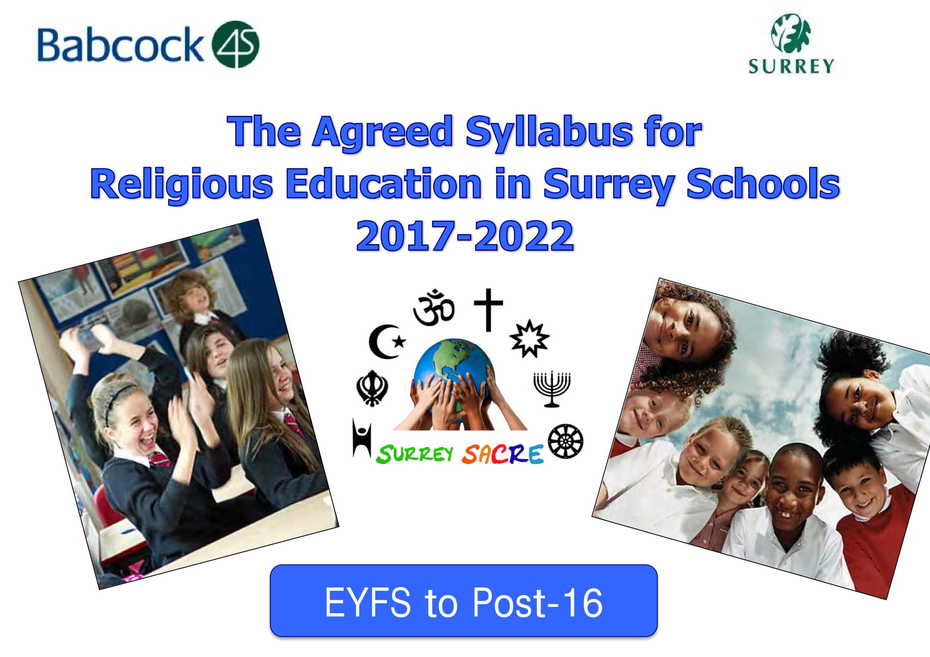 Click here to look at the Agreed Surrey Syllabus for Religious Education in Surrey Schools 2017-2022.
Click here to look the Southfield Park RE learning document.